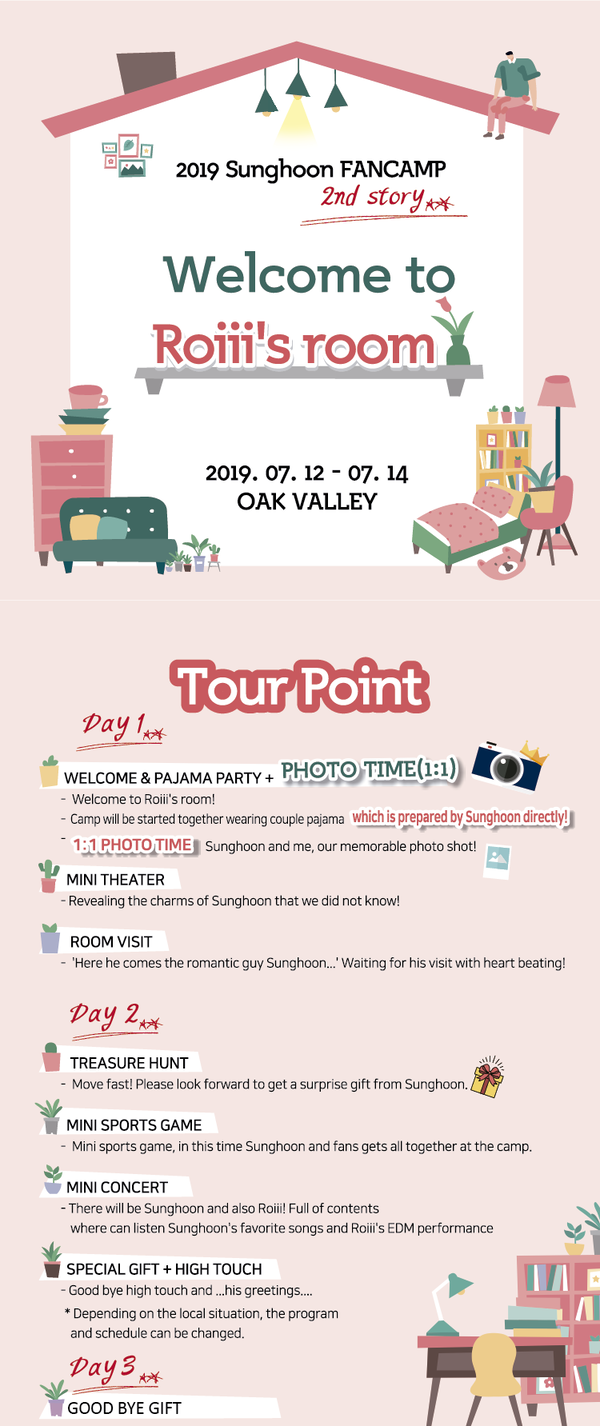 2019 Welcome to Roiii's room (Overseas)
Welcome to Roiii's room
2019 Sunghoon Fan Camp
Tour Info --------------------------------------------------------------------------
▷ TITLE : Welcome to Roiii's room
▷ Place : OAK VALLEY RESORT (Gangwondo Wonju)
▷ OAK VALLEY SITE : http://www.oakvalley.co.kr/
▷ DATE : 12nd July 2019 (Friday) – 14th July 2019 (Sunday) (2nights and 3days)
▷ CAPACITY : 300 limited (Global fans)
▷ RESERVATION : http://tourtainment.com/
*Please check the reservation page for each territories (Korean/English/Japanese/Chinese)
As Individual OR As Group
▷ RESERVATION DATE : 3rd June 2019 (Monday) 05:00PM ~ 7th June (Friday) 05:00PM
▷ BOOKING NOTICE : 7th June (Friday) 06:00PM
▷ Reservation in due period -> participants notified via email and mobile message individually -> make a payment -> confirmed
*Please note that the reservation will not be confirmed based on the order of arrival.
▷ APPLICATON METHOD : GOOGLE Form (Same room will be given to group members(more than 2 persons applying case as a group)
▷ Application form: Overseas
https://forms.gle/ComDz67MPKKVwen87
- Please apply for the guidance in the form of GOOGLE Forms
▷ INQUIRIES : TOURTAINMENT
Overseas: e-mail: 2019shcamp@dramatour.co.kr
*All inquiries about camp are received by email only.
*All the schedule is based on Korean time.
●Sponsor & Management : TOURTAINMENT
●Cooperation : STALLION ENTERTAINMENT