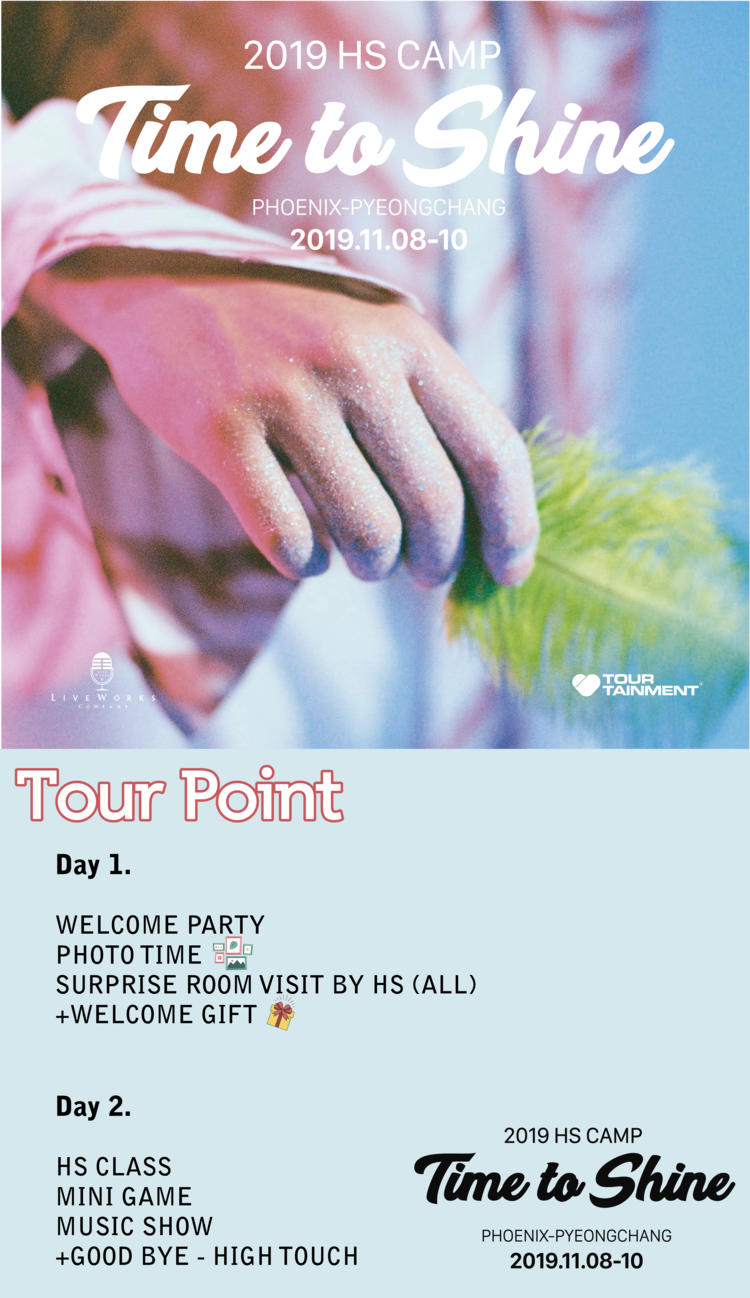 2019 HS CAMP-TIME to SHINE (OVERSEAS)
TIME to SHINE
2019 HS Camp
Tour Info -----------------------------------------------------------------------
▷ TITLE : 2019 HS CAMP - TIME to SHINE
▷ PLACE : PHOENIX – PYEONGCHANG
▷ PHOENIX SITE : https://phoenixhnr.co.kr
▷ DATE : 8th November 2019 (Friday) – 10th November 2019 (Sunday) (2 nights and 3 days)
▷ CAPACITY : 400 limited (Global fans)
Maximum 4 persons can be applied for one application.
▷RESERVATION DATE : 10th September 2019 (Tuesday) 2PM ~ 18th September 2019 (Wednesday) 11:59PM
▷ BOOKING NOTICE : 19th September 2019 (Thursday) 5PM
The participant will be notified via participant's email or mobile message in consecutive order
▷ Reservation in due period -> participants notified via email and mobile message individually -> make a payment -> confirmed
▷ APPLICATION METHOD : GOOGLE Form
▷ Application form: Overseas
https://forms.gle/VPRJn93EAZjCNeYP6
- Please apply for the guidance in the form of GOOGLE Forms
▷ INQUIRIES : TOURTAINMENT
: e-mail. 2019hscamp@dramatour.co.kr
*All inquiries about camp are received by email only.
*All the schedule is based on Korean time.
● Sponsor & Management: TOURTAINMENT
● Cooperation : LIVEWORKS COMPANY