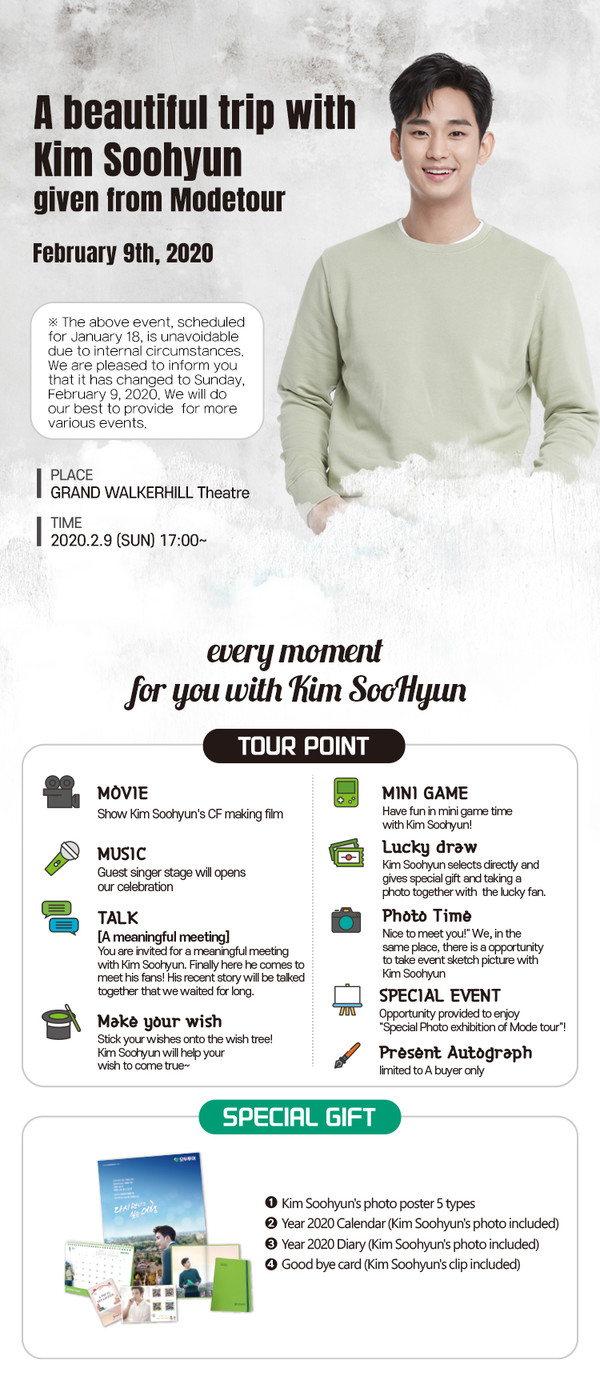 EVERY MOMENT FOR YOU _ENGLISH
Tour Info -------------------------------------------
▷ TITLE : EVERY MOMENT FOR YOU WITH KIM SOOHYUN
▷ PLACE : GRAND WALKERHILL THEATER
▷ GRAND WALKERHILL SEOUL SITE : https://www.walkerhill.com/grandwalkerhillseoul/
▷ DATE : 09TH (SUN) FEB, 2020, 17:00~
▷ CAPACITY : TOTAL 1000 LIMITED (GLOBAL)
▷ RESERVATION: Please check the reservation page for each territories
(Korean/English/Japanese/Chinese)
▷ RESERVATION DATE : ~Until 17TH JAN (FRI) 2020, 11:59PM
▷ MAKE A PAYMENT INTO INFORMED ACCOUNT AT THE SAME TIME AS MAKE A RESERVATION WITHIN DUE PERIOD -> participants notified via email and mobile message individually
IN THE CASE OF PAYMENT HAS NOT COMPLETED WITHIN 24 HOURS FROM APPLICATION SUBMITTED, APPLIED FORM WILL BE VOID AUTOMATICALLY.
▷ APPLICATON METHOD : GOOGLE Form
▷ APPLICATION FORM : OVERSEAS
https://forms.gle/nvAnr8FMmWH37xPYA
- Please apply for the guidance in the form of GOOGLE Forms
▷ INQUIRIES : TOURTAINMENT
한국: e-mail. soohyunlove@dramatour.co.kr
*All inquiries about fan meeting are received by email only.
*All the schedule is based on Korean time.
●Sponsor & Management : MODETOUR / TOURTAINMENT
Schedule----------------------------------------------------------
[DAY 1]
HOTEL CHECK IN 15:00 INDIVIDUALLY
FREE SCHEDULE
[DAY 2] : COMMON SCHEDULE 09TH FEB (SUN)
SEEING "MODETOUR" SPECIAL PHOTO EXHIBITION"
(GRAND WALKERHILL SEOUL- MORNING TOUR /
GRAND WALKERHILL SEOUL- AFTERNOON TOUR/
TICKET PACK - INDIVIDUALLY TOUR)
KIM SOOHYUN FAN MEETING 17:00~
[DAY 3]
HOTEL CHECK OUT INDIVIDUALLY
*Depending on the local situation, the program could be changed.